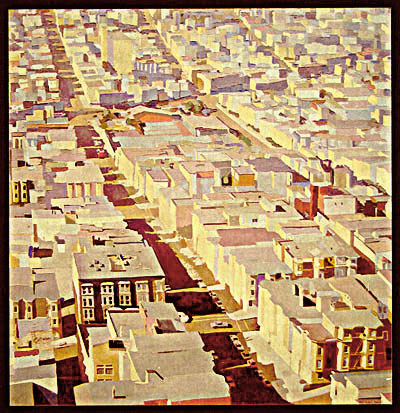 First Place
Halsted Hannah
415.823.0843
Halsted Hannah has been an illustrator and a painter for over three decades. A California native, he graduated from the California College of Arts & Crafts in 1981. He includes Ralph Steadman, Mark English, Sir Stanley Spencer, Barron Storey and Wayne Thiebaud among his many influences.
Hannahís work has ranged from editorial illustrations, cartoons, murals and storyboards, to graphic design and animation. His clients have included Warner Bros., Fox, Miramax, Hilton Hotels, Host Marriott, Coca-Cola, Pac Bell, Old Navy, Alka Seltzer, Reeses Pieces, Blockbuster, KFC and the National Park Service. He was the recipient of a NewMedia INVISION gold medal award for his comic Snothartwig, a gold medal from the S.F. Society of Illustrators and the John Caples International Award.
More recently, Hannah has worked as a concept illustrator for a variety of clients including museums, zoos and corporate events around the world. Some of the projects have included Paul Allenís Experience Music Project in Seattle, the S.F. Giants/Coca-Cola attraction in SBC Park, Chicagoís Museum of Science and Industry, Peoplesoft and the Black & White Ball in San Francisco, to name a few. www.halstedhannah.com
When I heard about the RSVP competition, I was immediately enticed by the theme, as I've always found dreams to be fertile ground for imaginative personal imagery. My subsequent first place finish was a surprise and an honor.

A graduate of Cornell in design, Michelle went on to study painting and illustartion in San Francisco. She is currently pursuing a freelance illustration career in her home town of New York.
First Place

Halsted Hannah
415.823.0843