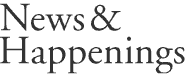 RSVP.05, our special 30th Anniversary and LAST Edition (making it an instant collectors item), is available in art supply and book stores nationwide. You can also order copies by contacting RSVP directly at 718.857.9267 or by e-mail at: info@rsvpdirectory.com. The price is $20 per copy. Back editions of RSVP are also available, individually or as a set for very reasonable prices.
The entries of the 4 Winners and 40 Finalists from RSVPís CITYSCAPES Competition can now be seen on our Online Galleries section of the website. Work from some of our past competitions can also be viewed there.
While we will no longer be publishing RSVP as a book, we will be continuing RSVP Online, our online digital directory. Donít miss the Image Directory section of it, where you can see all the work on RSVP Online, alphabetically, 12 images at a time. We will be making RSVP Online available to ANY artist at this point, so if you are interested in having a listing, please contact us for rate information, Include your name, address and phone number as well as e-mail and/or website info.
We may still be doing some theme competitions in the future. Please check our website periodically for announcements of any new Competitions.